Warning
If you make only the minimum repayment/payment each period, you will pay more in interest/profit/fees and it will take you longer to pay off your outstanding balance.
AED 630
Annual Fees for Salary Transfer Customers
AED 840
Annual Fees for Non Salary Transfer Customers
AED 630
Annual Fees for Salary Transfer Customers
AED 840
Annual Fees for Non Salary Transfer Customers
Exclusive Eco-friendly Benefits
Get eco-friendly benefits with each tap
Tree planting promise

On your first purchase we'll plant a tree for you as part of the Give a Ghaf tree planting programme. For each subsequent spend of AED 50,000, we'll plant an additional tree.

OR

More FAB rewards on eco-friendly spending

Earn up to 10 FAB Rewards per AED 1 spent on eco-friendly purchases including organic produce at Kibsons, Emirates bio farm, Just Vegan, The Giving Movement, BON organic perfumes and across 200 more brands in the UAE

OR

More FAB Rewards

Earn up to 4 FAB Rewards per AED 1 spent on your other spending in the UAE and abroad.

OR

Redeem instantly

Instantly redeem your FAB Rewards through the FAB Mobile app. Use your Rewards to contribute to marine conversation through REEFrame and other environment causes and activities. Bank will match the contribution by each cardholder.

OR
Spend and WIN cash prizes
Draw month
Qualifying spend period
Criteria(Based on retail spend)
Total winners per draw
Maximum winning amount per winner (AED)
Every July
January – June (6 months)
Cumulative retail spend of AED 25,000 within 6 months
20
25,000
Every January
January – December (previous year)
Annual retail spend of AED 50,000 and above
20
50,000
Annual retail spend between AED 25,000 and AED 50,000
100
1,000
Discover a great range of lifestyle benefits with your FAB Rewards Elite Card
Valet parking

Enjoy four free valet parking services a month at selected locations in the UAE.

OR

Movie tickets from just AED 15

Enjoy eight movie tickets a month for only AED 15 on weekdays and AED 20 at weekends at Reel Cinemas and Cine Royal. Get weekday movie tickets from only AED 20 at VOX Cinemas.

OR

Golf discounts

Get exclusive discounts at great golf courses*.

OR

Visa lifestyle benefits

Get even more great offers with Visa including offers on dining, xperience with the Entertainer and Global Blue*.

OR
Experience a better way to travel
Airport Transfers

Get up to eight free airport transfers a year.

OR

Meet and Greet Services

Get up to eight free Meet and Greet Services at Dubai International Airport.

OR

Airport lounge access

Enjoy free airport lounge access in 1,000+ lounges worldwide for you and a guest.

OR

Visa Travel Benefits

Enjoy travel benefits and discounts with Visa's partners including DragonPass Airport dining offers, YQ Meet & Assist, Avis Car Rental, Agoda, IHG Hotels & Resorts, Visa Luxury Hotel Collection, Jumeirah Hotels, Booking.com and many more*.

OR
Eligible cardholders should call on 04-8524856 and book the service at least 2 working days prior to their travel/ required drop-off or pick-up date. This desk would be available 6 days a week (Monday to Saturday) between 9am to 7pm.
We've got you and your purchases covered
Travel Accident Insurance

Get complimentary travel insurance of up to USD 1 million*.

OR

Purchase Protection and Extended Warranty

Enjoy Purchase Protection and an Extended Warranty of 12 months beyond the manufacturer or retail warranty*.

OR

Fraud

Benefit from automatic protection against unauthorised transactions or the fraudulent use of your card*.

OR
International Medical and Travel Assistance

If you used your FAB Rewards Elite Card to pay for your travel, you are eligible for free Medical and Travel Assistance Insurance for you and your family when travelling to a location outside your principal country of residence for up to 90 days*. Learn more.

OR

Credit shield

If something happens and you can't meet your credit card payments, your outstanding balance will be paid off.

OR
*Service offered and supported by VISA. Terms and conditions of the offer(s) may change without prior notice. Click here for more details about these great benefits.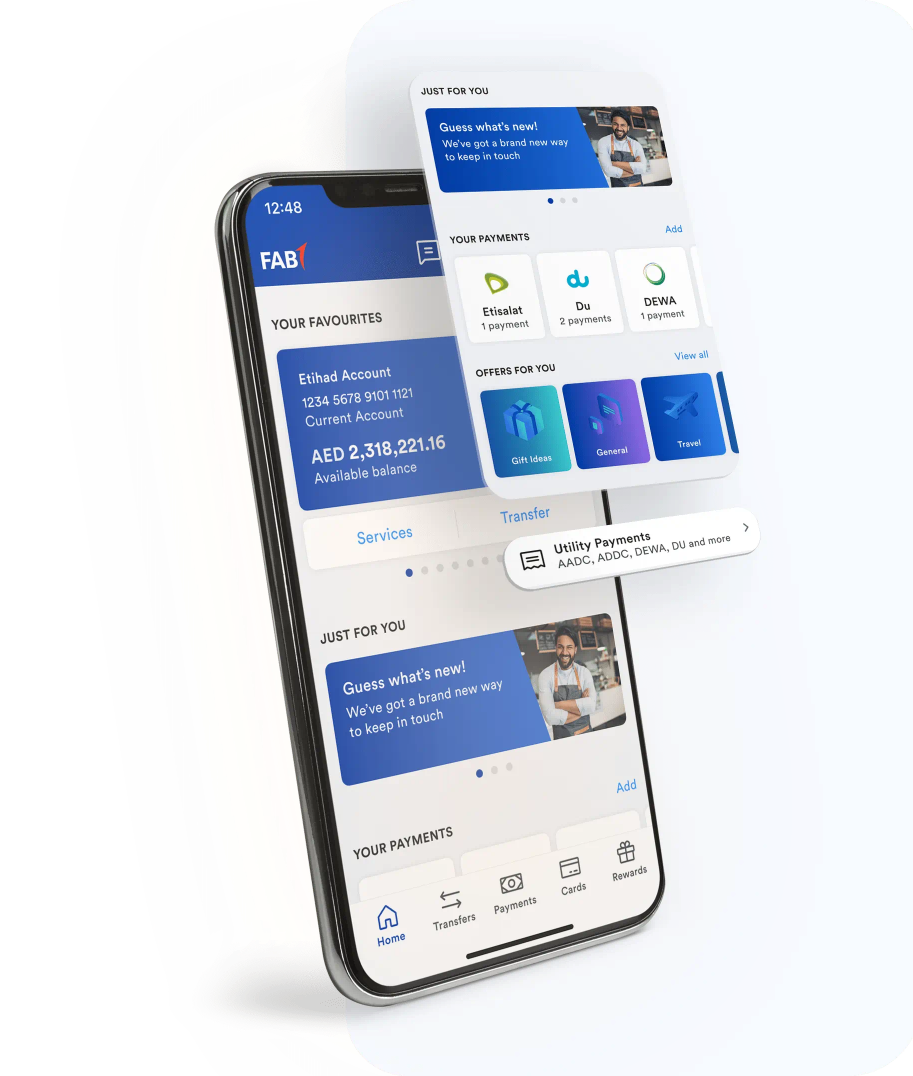 Get a FAB Rewards Elite Card instantly on the FAB Mobile app
The FAB Mobile App puts the power of the bank in your hands
Get your FAB account and credit cards instantly with just your Emirates ID. Zero paperwork
Use your FAB Rewards for environmental causes, shopping vouchers or to pay your bills
Check your balance, send money and track your eco-friendly benefits with a few taps
Get in touch
Need more help?
Contact us anytime for further assistance or check out our FAQ page for more information.