FAB Accounts deliver the flexibility you need to manage your banking. With a diverse range of bank accounts to choose from, you can find what you need to manage your finances. Access your accounts from anywhere, anytime with FAB Mobile so you can keep up with your accounts even while you're on the go for added convenience.
Current Accounts

Open a current account and take care of your everyday banking needs with ease. Plus you can enjoy additional travel and lifestyle rewards and benefits.
Learn more
Savings Accounts

Achieving your financial goals is easy with FAB. Explore our savings accounts and products so you can be prepared for what's ahead.
Learn more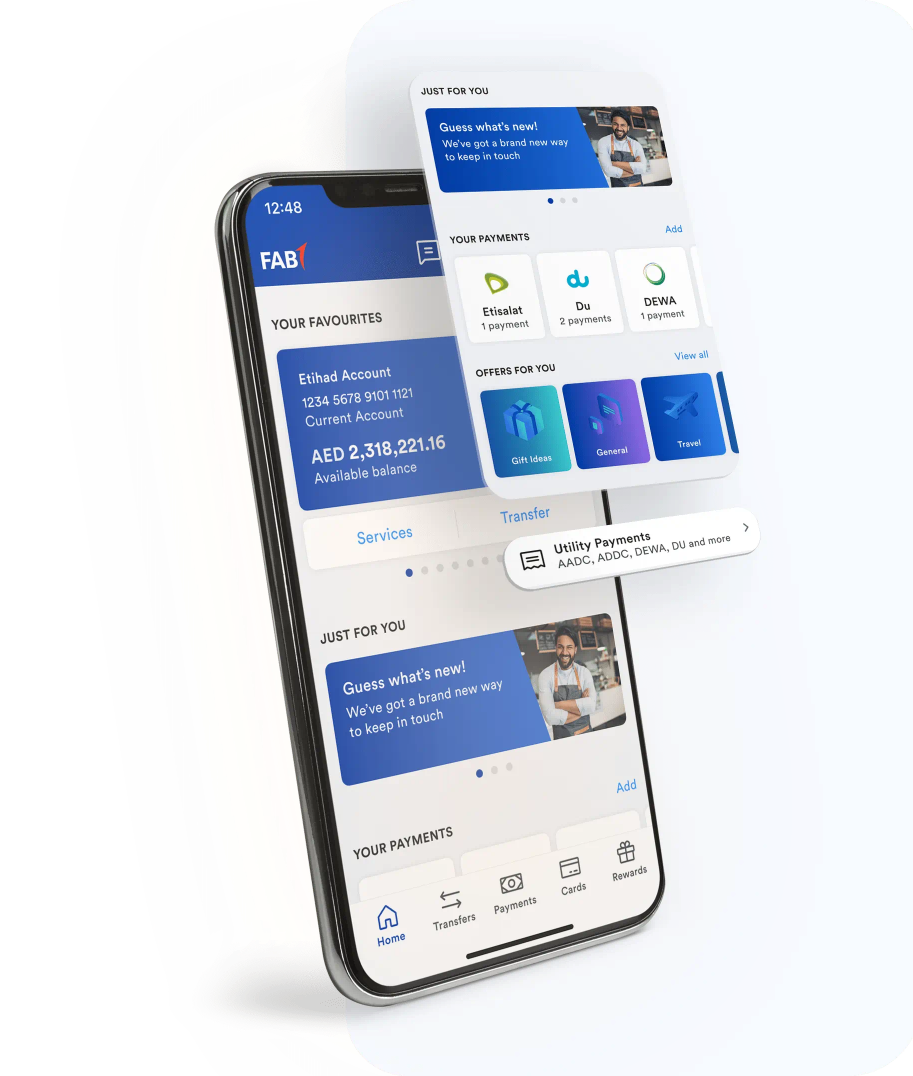 Open an account instantly on the FAB Mobile app
FAB Mobile puts the power of the bank in your hands
Get your FAB account and credit cards instantly. Zero paperwork
Open an account and get a credit card, with just your Emirates ID
Use your FAB Rewards to pay your bills anytime, anywhere
Check your balance, send money and earn rewards in a few taps
Take a look at Some of Our Most Frequently Asked Questions.
We're always ready to help you manage your finances.
Who can open an account with FAB?
UAE Nationals and residents who meet the eligibility requirements (which vary with every account) may open an account with FAB. We offer several options for both salaried and non-salaried individuals.
What are the requirements for opening an account with FAB?
You can open an account with FAB if you are a UAE National or UAE resident. The requirements vary with each account, please feel free to contact our customer care centre to find out more or take a look at our current accounts or savings accounts and select the account of your choice to read about eligibility and requirements.
What are the types of FAB accounts?
How can I apply for a FAB Account, Credit Card or Personal Loan?
You can easily sign up for FAB products on:
FAB Mobile - On the Home screen, tap the menu in the top right corner. Select 'Apply for a new product' under Products Manager'.
What do I need to start using FAB Mobile?
If you're an existing customer, you need your Customer Number (that's sent to your registered email address) or debit card number or credit card number, a smartphone (iPhone or Android) and a secure internet connection either Wi-Fi or 4G with data services.
Can I open an account through FAB Mobile even if I don't have any FAB products?
Yes, all you need is your Emirates ID. Simply download the app, choose the account you want and sign up. You will need to verify your Emirates ID and go through the security verification. But you can open an account in minutes.
What type of accounts can I open through FAB Mobile?
You can view the list of accounts and also the eligibility criteria for the accounts.
How do I report any fraudulent or suspicious account activity?
Please call our 24-hour contact centre at 600 52 5500 immediately to report any fraudulent or suspicious activity on your account or card. You can also use the 'Block and replace' option on FAB Mobile if you suspect fraudulent activity on your card.
My FAB Mobile app is locked and I am unable to log in. How can I unlock my FAB Mobile App?
Go to the FAB Mobile login screen, tap the 'Forgot PIN' option and follow the steps to instantly unlock your mobile banking access.
For more information or assistance, please contact 600525500.
*Disclaimer: All the information/ options provided by FAB are for the purpose of customers' informed decision making and will not be deemed as a specific advice or recommendation.
Get in touch
Need more help?
Contact us anytime for further assistance or check out our FAQ page for more information.