Warning
If you make only the minimum repayment/payment each period, you will pay more in interest/profit/fees and it will take you longer to pay off your outstanding balance.
*Refer to the Blue FAB Credit Card Terms and Conditions for a full list of eligible Al-Futtaim brands.
Enjoy up to four movie tickets per month from AED 15 on weekdays and AED 20 at weekends at Reel Cinemas and Cine Royal (minimum monthly spend on the credit card to quality for the benefit is AED 4,000)

OR

Add your Blue FAB Credit Card on Apple Pay, Google Pay and Samsung Pay

OR

Reaching the airport on time has never been easier! Blue FAB Platinum Credit Cardholders can enjoy 2 airport transfers per annum at AED 40 per trip.

OR
Register your Blue FAB Credit Card on the Blue app and receive an additional 1% cashback on all Al-Futtaim purchases. Download it here.
Enjoy complimentary access to over 1,000 airport lounges globally

OR

Enjoy 10% discount with Budget

OR

Pay with Visa to enjoy 25% off on designated Basic Health Checkup Item

OR

Access over 300 airport restaurant offers globally through the Visa Dine & Travel app

OR

Up to 15% off at Farfetch

OR

Over 900 intriguing and prestigious properties from boutique gems to world famous hotels

OR

Up to 25% off on dining, spa & stay at Jumeirah Hotels & Resorts

OR

Save up to 12% discount over 985,000+ hotels & vacation rentals worldwide

OR

Benefit from an Extended Warranty with double the repair period offered by the original manufacturer's warranty for up to one year

OR

Get Buyers Protection for extra peace of mind when purchasing an eligible item

OR

Get multi-trip travel insurance coverage for you and your family

OR

Fraudulent Card Misuse offers protection against unauthorised transactions or the fraudulent use of your card by unrelated third parties

OR
Opt for Credit Shield benefits so that your outstanding balance will be paid off if something happens and you can't meet your credit card payments

OR

Receive SMS alerts on all your credit card transactions

OR

Receive up to four free supplementary cards for your family

OR

Get Quick Cash at great rates directly in your UAE account

OR

Get Easy Payment Plans with convenient repayments at great rates through the FAB Mobile app

OR

Manage your card, payments and much more quickly and easily through the FAB Mobile app

OR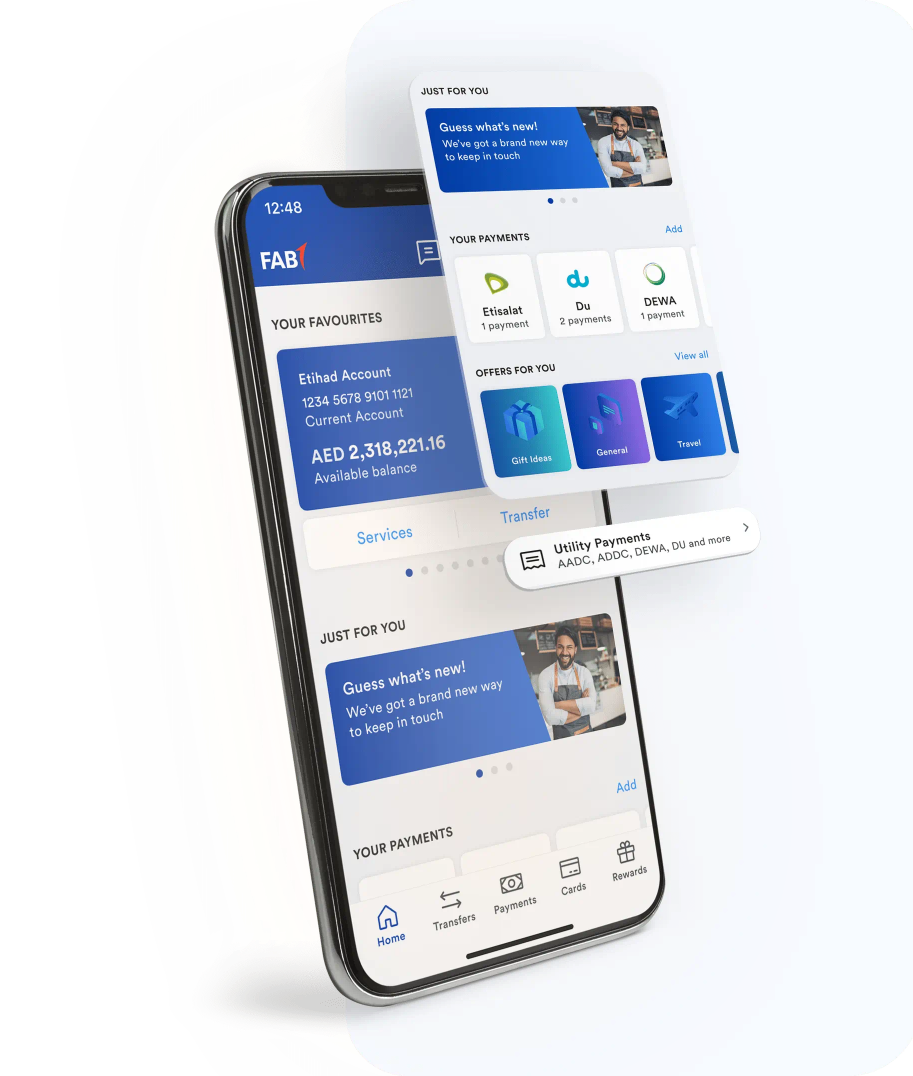 Get a Blue FAB Signature Credit Card by Al-Futtaim instantly on the FAB Mobile app
FAB Mobile puts the power of the bank in your hands
Get your FAB account and credit cards instantly. Zero paperwork
Open an account and get a credit card, with just your Emirates ID
Use your FAB Rewards to pay your bills anytime, anywhere
Check your balance, send money and earn rewards in a few taps
Get in touch
Need more help?
Contact us anytime for further assistance or check out our FAQ page for more information.