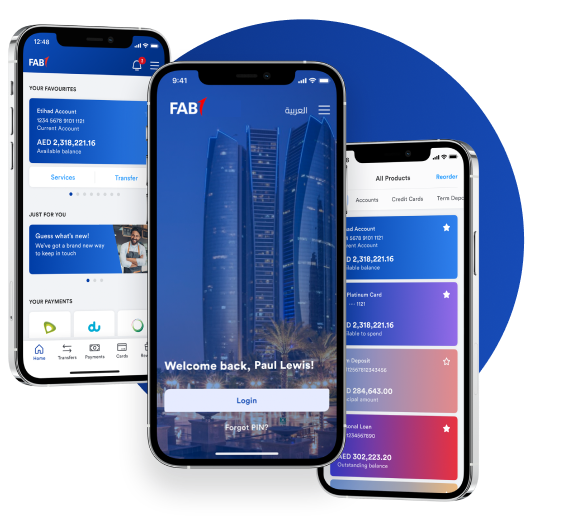 Banking With Us – Bank anytime, anywhere.
Keep up with all your finances on the go.
The FAB Mobile App puts the bank in your hands. Make payments and transfers, manage your accounts, apply for a credit card and so much more.
Digital Wallets - Making every payment easier.
Check out these useful links.
Browse through additional services

Learn more about the benefits of our extensive offerings.
Debt management
Tips on how to manage your finances. Read on to learn more about our services and solutions.
What is the password to view my account e-statement attachment?
Your e-statement password is made up of the last four digits of your account number. 101XXXXX1234 followed by the day and month of your date of birth 01-02-1989 (DDMM). When you are prompted for password, the 8-digit password to be entered: 12340102.
How do I change or update my new mobile number or my email address in my bank records?
You can update your mobile number or email address through:
FAB Mobile - From the Home screen, tap the menu on the top right corner. Tap 'Edit Profile' and select the 'Personal Details' tab to to edit your information such as mobile number, email address and home address
Online Banking - Select 'Services', go to 'Other Services' and click on 'Update Mobile Number'
How do I update my Passport/ Visa details in my bank records?
You can update your Passport or Visa information through:
FAB Mobile -From the Home screen, tap the menu on the top right corner. Go to the 'Edit Profile' option and select the 'Documents' tab. Tap 'Add a new document' and choose 'Passport' from the menu to upload your new document. You can do the same for Visa
Online Banking - Click on your Profile name and select 'My Documents'. From here, select 'Add New Document', choose 'Passport' from the drop down menu and upload the document. You can do the same for the Visa
How do I get my International Bank Account Number (IBAN) details?
You can get your IBAN number through:
FAB website - Use our IBAN Generator tool
FAB Mobile -Find your IBAN number under your account details on the Home Page
How can I raise a dispute on my credit card/debit card transaction/s?
To raise a dispute, download and complete the forms below and email it to us here.
Note:
Complete all information on the form including the dispute reason.
You can dispute the transaction within 60 days from the transaction date.
All forms must be opened with Adobe Reader.
Get in touch
Need more help?
Contact us anytime for further assistance or check out our FAQ page for more information.