Warning
If you make only the minimum repayment/payment each period, you will pay more in interest/profit/fees and it will take you longer to pay off your outstanding balance.
Slice your purchases into 4 interest-free instalments

OR

Use SlicePay to make purchases almost everywhere Mastercard is accepted in the UAE

OR

Benefit from no processing fees and no interest

OR

Get an instant digital card to use through your favourite digital wallet

OR
It is easy to manage your digital card and payments through the Dubai First Mobile app

OR

Get one supplementary digital card free

OR

Get alerts on all your transactions and payment reminders

OR
Eligibility and Fees
Minimum monthly salary: AED 5,000
Annual fee: AED 99 (excluding VAT)
FAB customers are eligible for no fees in the first year when they apply using a special promo code.
View the 'Just for You' banner on the home page of the FAB Mobile app to find the code.
Click here for FAQs
View the SlicePay Terms and Conditions here

SlicePay is operated by First Abu Dhabi Bank PJSC under its Dubai First trademark.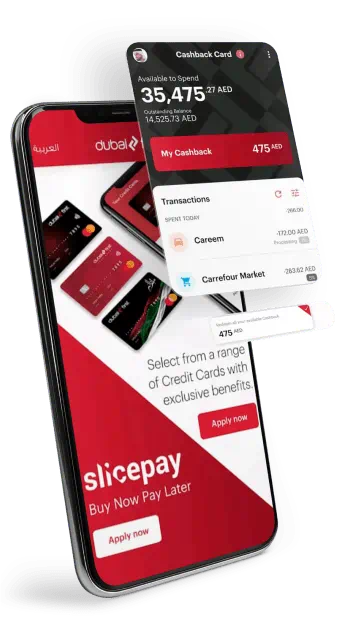 Apply for your SlicePay Card instantly on the Dubai First Mobile app
The start of your mobile-first experience with the next generation digital card
Apply for your digital card instantly
Enjoy an easy, seamless and intuitive experience
No paperwork. No in-person meetings required
All you need is your Emirates ID and IBAN